Example: Printing a Triangle
Create a method which prints a triangle as in the examples.
Sample Input and Output
Input
Output
Input
Output
3
1
1 2
1 2 3
1 2
1
4
1
1 2
1 2 3
1 2 3 4
1 2 3
1 2
1
Hints and Guidelines
Before creating a method to print a row with a given beginning and an end, we must read the input number from the console. After that we choose a meaningful name, which describes its purpose, e.g. PrintLine, and implement it.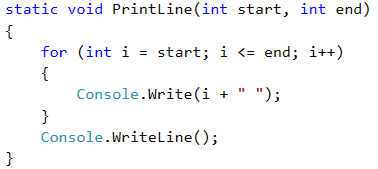 From the drawing exercises we can remember, that it is good practice to divide the figure into several parts. to make it easier we will divide the triangle into three parts - upper, middle and lower.
The next step is to print the upper half of the triangle using a loop:

Then we print the middle line:

In the end we print the lower part of the triangle, but this time the loop step decreases.

Testing in the Judge System
Test your solution here: https://judge.softuni.bg/Contests/Practice/Index/594#2.