Hints and Guidelines
Стандартно прочитаме входните данни от конзолата като за избягване на грешки при въвеждане обръщаме текста в малки букви с функцията .ToLower(). Последователно пресмятаме уикендите прекарани в София, времето за игра в София и общото време за игра. Накрая проверяваме дали годината е високосна, правим допълнителни изчисления при необходимост и извеждаме резултата на конзолата закръглен надолу до най-близкото цяло число (потърсете C# клас с такава функционалност в интернет).
Примерен код (части от кода са замъглени с цел да се стимулира самостоятелно мислене и решение):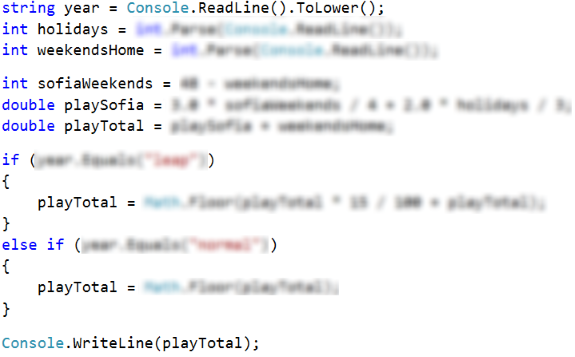 Testing in the Judge System
Тествайте решението си тук: https://judge.softuni.bg/Contests/Practice/Index/508#11.