Problem: Summing up Numbers
Write a program that inputs n integers and sums them up.
The first line of the input holds the number of integers n.
Each of the following n lines holds an integer for summing.
Sum up the numbers and finally print the result.
Sample Input and Output
Input
Output
2
10
20
30
3
-10
-20
-30
-60
4
45
-20
7
11

43
1
999
999
0
0
Video: Summing Numbers
Watch this video to learn how to sum numbers in for-loop: https://youtu.be/t7PAichwl7k.
Hints and Guidelines
We can solve the problem with summing up numbers in the following way:
We read the input number n.
We initially start with a sum sum = 0.
We run a loop from 1 to n. On each step of the loop, we read the number num and add it to the sum sum.
Finally, we print the calculated amount sum.
Below is the source code for the solution: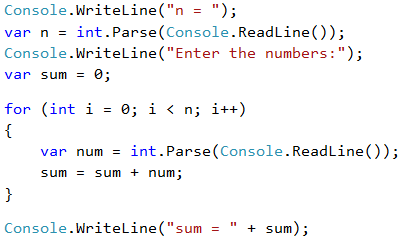 Testing in the Judge System
Test your solution here: https://judge.softuni.org/Contests/Practice/Index/510#3.