Problem: Fibonacci Numbers
Fibonacci's numbers in mathematics form a sequence that looks like this: 1, 1, 2, 3, 5, 8, 13, 21, 34, ….
The formula to form the sequence is:
F0 = 

1


F1 = 

1


Fn = Fn

-1

 + Fn

-2



Sample Input and Output
Input (n)
Output
Comment
10
89
F(11) = F(9) + F(8)
5
8
F(5) = F(4) + F(3)
20
10946
F(20) = F(19) + F(18)
0
1
1
1
Enter an integer number n and calculate n-number of Fibonacci.
Tips and Tricks
An idea to solve the problem:
We create a variable n to which we assign an integer value from the console input.
We create the variables f0 and f1 to which we assign a value of 1, since the sequence starts.
We create a for loop with condition the current value i < n - 1.
In the body of the loop:

We create a temporary variable fNext, to which we assign the next number in the Fibonacci sequence.
At f0 we assign the current value of f1.
At f1 we assign the value of the temporary variable fNext.

Out of the loop we print the n-th number of Fibonacci.
Example implementation: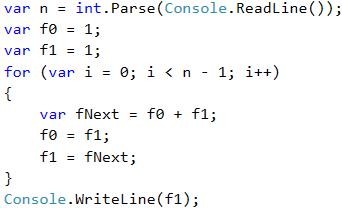 Testing in the Judge System
Test your solution here: https://judge.softuni.bg/Contests/Practice/Index/514#13.